Rising pop star Moyka has been making big waves since she debuted with "Colder" last year. After a bunch of great single releases, the singer-songwriter and producer from Norway dropped her "Circles" EP in 2019. An impressive EP in which she gave us a glimpse into her beautifully crafted synth pop universe.

Luckily, we didn't have to wait long for more delicious synth pop sounds from Moyka. Last month she returned with a brand new single called "Spaces". The song is taken from the same titled EP and will be out in June. Now' it's time for the EP's second single with "Backwards". A banging new tune that just makes us want to go out and dance!

We've been following Moyka since the beginning and it's great to see her grow and deliver one impressive single after the other. We were able to talk to the Norwegian artist about her new single "Backwards", her growth as an artist, songwriting and inspirations. Check it out below!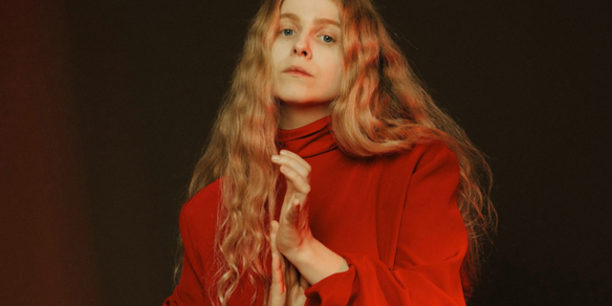 For everyone that's still unfamiliar with you, how would you describe yourself and your music in a few words?
I'm a Norwegian artist and music producer from Norway. I call myself a pop witch because my music is a bit dark, mysterious and filled with synths.
Last year you debuted with the brilliant "Circles" EP, how did it feel to have your music finally out there and get recognized for it?
It felt great. We had been working on it for a very long time, so it felt good to finally release it.
Tell us a little bit more about your new single "Backwards". How did the song come a long and what was the inspiration behind it?
It was a very hard song to write. I had just been through a big heartbreak. It was hard for me to accept that this was going to be something I was going to write about. I was fighting myself for a long time because of it, but when I finally just realised that I wanted to be honest about what I was feeling and that this was something I had to process my own way, I felt a big release. It's scary to be honest and vulnerable, but it's important to me that I will not be afraid of it.
You mentioned the song was written in a hotel room in Berlin, how did that process of writing go? Something happened that inspired or influenced you?
Yes, that's right. Me and Eirik were supposed to go to sessions in Berlin, but they all got cancelled. So we sat up a little studio in a hotel room and decided to write a couple of songs just the two of us. I work a lot together with Eirik Hella and this is how we usually write, but it felt very fresh to do it in an entirely different city.
I said to Eirik that for this track I wanted people to hear that we went to Berlin. So we started the beat with that in mind. After we had written the verse and chorus over that, we tried to wrap our heads around how the production were going to be and sound like. It took a while before we got it right. I'm very happy with how it turned out.
The new single is taken from an up-coming EP, can you tell us a little bit more about that?
That's right. My new EP is called Spaces and will be released in the beginning of June. It's about the loss of a longterm love and how to let go of it. It's about looking forward and trying to move on from heartbreak.
I think it's very interesting to explore "Spaces" as a concept. In a way we are always changing and always transforming through the spaces we live and move through. Both mentally and physically. I feel like I've changed so much in only a year and I really wanted to explore that transformation also through my music.
With one EP already released and another one on the horizon, have you noticed any evolution musically or in your songwriting?
Absolutely. I'm not as afraid anymore. I still have barriers to break in my mind, but I'm a lot more free now in my songwriting. And the sound of the production on this new EP is brighter, that's also a transformation! I got a lot of help from Eirik to make it sound like this.
What are your current music obsessions and is there anyone you'd like to work with?
My current obsession is Kindness – Something Like A War (Album). I loooove how it sounds and the atmosphere and the messages behind it. It's seems very thought through and wholesome. I would absolutely love to work with them. I have also listened a lot to Charli XCX lately. I'm trying to use this quarantine-time to find new and different songwriting and production techniques and I think it's very interesting how she works.
What else can we expect from Moyka in the future? Any plans for an LP release?
I really hope so! I'm trying my best to make it happen <3