A few weeks ago Berlin-based musicians Lisa Klinkhammer and Johannes Badzura aka Bad Hammer made their big return with new single "Mystified". It's the follow-up to their enthralling debut EP "Extended Play" from last year. New single "Mystified" is a project that's been in the works for quite some time. Eventually resulting in not only a single but also an accompanying video-commercial and perfume!

Bad Hammer is taking us on a nostalgic and captivating trip into a world of noir and intrigue with "Mystified". The cinematic track is a brilliant alternative pop song that instantly puts you under a spell. Lisa's warm and husky vocals shine against the production, which is slowly taking us to new heights. Ultimately reaching a massive climax that is leaving us speechless and begging for more. Bad Hammer has already proven themselves with their debut EP, but with "Mystified" the duo shows they're a force to be reckoned with. We can't wait to hear what else they have in store for us!

To celebrate Bad Hammer's new release we asked them some questions regarding "Mystified". Read more below!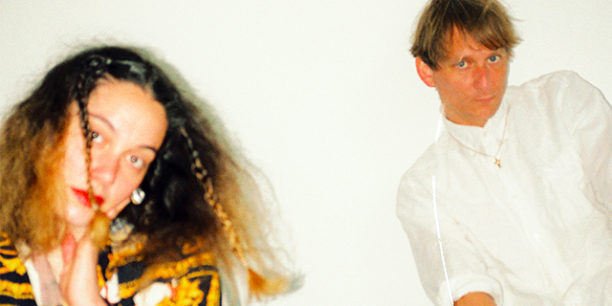 Who is Bad Hammer and how did you meet?
Bad Hammer are Lisa Klinkhammer and Johannes Badzura. We met in Berlin through a friend and started jamming together in spring 2015. We didn't intend to become a band until this very friend asked us to play a little concerto. Actually, it took quite some time until we felt it was right to put out an EP. We both have our individual backgrounds in music and arts and Bad Hammer has been our main artistic focus for some time now.

Tell us a little bit more about your new single and video "Mystified". How did the song come along and what was the inspiration behind it?
Originally we recorded a shorter version of the song for the 10 years shameless/limitless tape compilation in 2018. We then rewrote the song in 2019, already thinking of releasing it as a single following our EP "Extended Play". Some lines of the lyrics felt like advertising phrases that required a commercial look. That's why we created a perfume commercial as a music video for the song. At that time, John Huston's 1941 movie `The Maltese Falcon' served as an inspiration conceptually as well as the aesthetics of 80s&90s perfume ads. At the same time we always have to break with stereotypes and extend the boundaries of genres as we simply don't want to reproduce and serve the expectations of retro desires.

How did you guys come up with the idea to create a full concept behind "Mystified" (including a perfume!) and how was that process?
Since we came up with the idea of a perfume commercial as the music video, we thought we should go all the way and create a perfume too. The pyramidal flacon captures that threefold concept of song, scent and video. Like a prop, the perfume fits in the material world we're all living in. As we all know, there is a strong commercial alliance between music and other industries like fashion, beauty and cosmetics. The interesting thing is, that people meanwhile spend a lot more money on cosmetics than on music. That's why already famous artists like Britney or Lady Gaga often come up with a perfume to enter another, much bigger market. As an unknown band we thought that doing the same could be fun for us too. The perfume itself (pour vous) is mysterious and it comes as a luxurious limited edition.
As a Berlin music act, "Mystified" also comes with three brilliant remixes from Berlin-based producers. How does the city influence your music?
So far Berlin is still a good place to be a musician, since there is (still) space for musicians to perform. A lot of our friends are musicians and we go see each others shows regularly. It's a bit of a family affair, that's why Chikiss, Giraffi Dog and Sami Toroi remixed "Mystified".
What are your current music obsessions and is there anyone you would like to work with?
From Yves Tumor to Antena, Anna Domino, Otis G. Johnson and Japanese 80s ambient…but mostly we are literally obsessed with our own music, because we are working on an album right now.
What else can we expect from Bad Hammer in the future?
An album in 2021, some bad hammery videos and hopefully many shows. We would love to play in Belgium by the way…
"Mystified" is out now on all platforms via Italian Island / Doom Chakra Tapes.