Copenhagen duo, Evil House Party, makes a triumphant return with the first single from their upcoming debut album. The duo consisting of Jacob Formann and Emma Acs release 'SKY HIGH' today, which marks their first release since 'United' last year and their 2021 EP 'Grand Theft Audio'.
On their latest single, 'SKY HIGH,' Evil House Party delves into the complexities of navigating life with borderline. The song is a powerful anthem with a soaring chorus that instantly captivates. The talented duo effortlessly blends various soundscapes, combining haunting and melancholic sounds with strong pop melodies, with a touch of nostalgia. 'SKY HIGH' stands as yet another killer track from the duo, leaving us eagerly anticipating their future releases.
In celebration of Evil House Party's new single, we had the opportunity to ask the duo a few questions about themselves and their latest release. 'SKY HIGH' is now available on all platforms.
For anyone that hasn't heard about Evil House Party yet, can you share how the two of you started and what inspired the name of the project?
We started the band after both touring one summer with First Hate, we had been talking about doing some music, and as we did we wrote Keep Going On, and decided from there to keep on doing music together. As for the band name, we wanted a name that didn't sound like a band. So Jacob said "what about Evil House Party?" and we agreed that it was goddamn perfect.
Listening to your new single 'SKY HIGH' and debut EP 'Grand Theft Audio', there's a wide variety when it comes to genres and styles. Could you tell us about some of your musical influences and how they shape your unique sound?
We both listened a lot to brit pop as teenagers, but at the moment our musical influences has been a variety of different music. We both, love the UK grime scene, and we also listen to a lot of Danish rap like Sivas and Artigeardit. We are both big Townes Van Zandt fans as well. We listen to anything really. We also appreciate the inspiring and blooming Copenhagen music scene. There are a lot of new incredible and talented artist, and that's very inspiring.
Having both careers in music before Evil House Party, what would you describe as the biggest difference working solo or together?
Emma: I love working with Jacob because he's a great musician and producer obviously but also because the universe of Evil House Party feels like a playground and we have created a common narrative that feels very liberating in the process of writing.
Jacob: Whether Emma is with me in the studio or not, she is always present because she is a ghost and she is haunting me.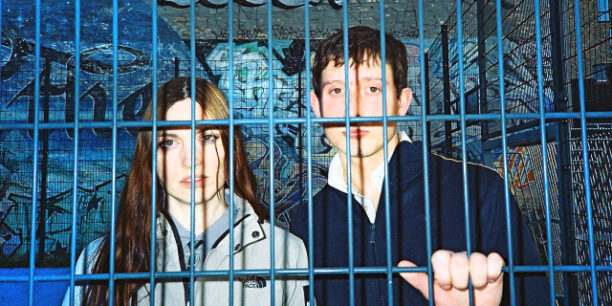 You have been doing quite a big tour in the UK & Ireland back in 2021. How were these first concerts showcasing your new music and introducing yourself to a new public. Any highlights?
The UK Tour was a hell of a ride, literally. We met some great people along the way.
Besides working together, any dream collaborations you'd love to pursue in the future?
Yung Lean, if you're reading this; get in contact: 10000kr@gmail.com
What else is in store for Evil House Party?
Right now we are working on our debut album, and we're looking forward to release more songs and play more shows, and hopefully get rich or die trying.