Let us introduce you to London born, Berlin-based musician GRIP TIGHT and his great debut album called "Full Future". On his debut LP the talented artist engages us into his thrilling soundscapes and offers some brilliant alternative electronic R&B. Last week GRIP TIGHT also unveiled a super cool music video for one of our favourite tracks of the record "straighttotheheartofit", which you can watch below.

In celebration of GRIP TIGHT's debut record we asked the musician a few questions about his new release and inspiration behind it. "Full Future" is out now via Reveal Records and be sure to give visuals for "straighttotheheartofit" created by sleeper self (aka A/B aka Andrew Binnie) a watch below.
For everyone that hasn't heard any GRIP TIGHT music, how would you describe your sound?
It's electronic in sound but human in feeling. It has elements of R&B and elements of pop and usually contains a bunch of different synths.
You released your debut EP "Never Enough" back in 2016. Now, 6 years later your debut album "Full Future" is here. How did your music evolve over the last few years and did your process of creating music change?
The process changed a lot because now I have a studio that I go to most days, whereas in the past I was always trying to work from home and would end up getting distracted by everything apart from finishing a song. It would genuinely take me a year to finish 1 track. Now I'm way more productive!
Musically, I'd say the songs are more dense and developed now. I still like things to be concise but there's more twists and turns.
Can you tell us a bit more about the inspiration behind "Full Future"?
The inspiration for the title came from the track 'Pull Up Close' and the line:
"Wait a second, take a minute, is there a future? Am I in it?".
I made the majority of this album on my own in a studio in East Berlin and during the process I was thinking about how I was connecting to others emotionally, physically and through technology. I began to wonder whether there was enough space in my own life to be who I wanted to be and to say what I wanted to say. The idea was that 'Full Future' can be a life full and content or an opportunity that passed you by.
Lizzy Lizzy is a featured vocalist on multiple tracks. How did this collaboration come to life and why did you decide these tracks needed additional vocals?
We met through Martha Rose, a mutual friend in Berlin. I heard her singing and just felt her voice was perfect for some of the new songs I was working on which involved more obvious "chorus" sections. My natural instinct is to hold back on a song and keep it understated and bringing in Lizzy really elevated these tracks and helped expand the sound in a way that I couldn't have done alone.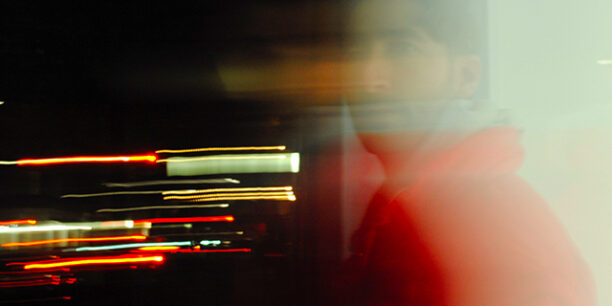 Being born in London and based in Berlin, did this change in environment influence your music in any way?
I think it did in terms of having the time and space to be creative in Berlin, rather than it directly influencing the way my music sounds.
What is your favourite track on the new record and why?
I haven't settled on a favourite track yet, but I can share some favourite moments:
(i) 'Straighttothehearofit' (2:16) – Phil Collins inspired gated reverb drum drop. What's not to like?
(ii) The first 16 seconds of 'L$$P' – I love the bass line on this. To me it sounds like a spluttering engine trying to start up and I could probably listen to it for hours.
(iii) The outro to 'Pull Up Close' (from 3:15) – Lizzy Lizzy singing "Heart to heart are you leaving here with me?" capturing the spirit of the end of the night. The bar's closing, the people are leaving, what's your next move?
What are some of your current music obsessions and who would you like to work with?
The new album from Joan As Police Woman (with Dave Okumu and Tony Allen) is amazing. I've been listening to 'Black Metal 2' by Dean Blunt a lot too. Collaboration wise I'd love to make a track with Tirzah.
What else is in store for GRIP TIGHT in the future?
I've been working on some new songs with Martha Rose over the last year or so and the first track 'Never B Mine' is out this month on Mansions and Millions. She's one of my dearest friends and this is the first time we've ever written anything together so it's been a special experience. We're really happy to be releasing it with Mansions and Millions too, I'm a big fan of the music they put out.
After that I'll be readying myself for a couple of album release shows in Berlin. Sharing some of the tracks for 'Full Future' live for the first time, with a band.
20th April @ Sameheads (for Heads Radio)
28th April @ Marie Antoinette (with Soft Drug and Das Beat)