Singer-songwriter and producer Fahd is back with a brand new single called "No More" After the intimate and French track "Viens", Fahd is back doing what he does best, creating incredibly infectious synth pop. New single "No More" is an absolute banger and it might even be our favourite so far!

We recently had a chat with the singer about his new single and his inspirations. Check it out below!
Who is Fahd and how would you describe your music?
The sound I make is something that comes from the emotions I get the first time I listen to a melody. I play different melodies and suddenly there is one that grabs my attention and wins my heart. The rest of the creation process tries to follow and emulate that first emotion I felt when listening to the melody. I would describe my music as the result of a chain of events. Like a small snowball becoming a giant ball of iced snow.
I consider my music to not really have a precise sound because, as I said before, it all depends on that first emotion. Yet, in most of cases, my sound tends to be cold and metallic for the instruments, melancholic for the melody and warm for the vocals. Sort of like a Glühwein on a Christmas market (laughters).
Tell us a little bit more about your new single "No More". How did the song come along and what was the inspiration behind it?
"No More" is the result of what I call a rare occasion. It all started with a dream. It was a very apocalyptic scene where there were a lot of cruise ships sinking in a harbour, next to a city that was half destroyed. There was a sound to that scene and it was a melody that really put an accent on the dramatic aspect. I miraculously woke up right after cause I felt I had to remember the melody and so I took my phone and started singing to my voicemail the little hunted melody. Afterwards, I sat on my desk and started writing lyrics to it. I felt like I was talking to the citizens of that half destroyed city, so I tried to give them an anthem to get on their feet and start their lives again. I want to think that is a metaphor of what's currently going on in the world, so the song becomes an anthem for those who need to say "No More", stand on their feet and fight for their dreams.
You mention "No More" is your first release written and recorded in Berlin. Did the city influence your music in any way?
I recently moved to Berlin and I have never created so much music in such a short period of time. It is certainly in part because of this change of scenario but I think it also has to do with the current situation we are all in right now. At this point it doesn't really matter where one lives because at the end we are all home, with our own thoughts. At the end I think that is what really matters. Berlin, and this pandemic era gave me time to think, in general, which ended up leading to creation.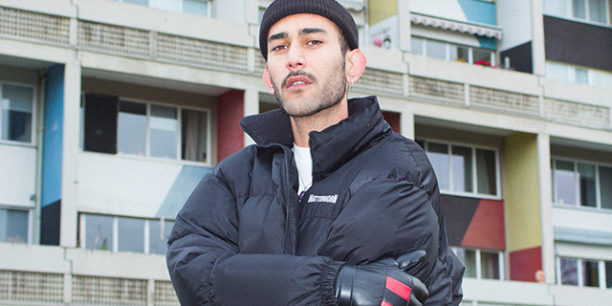 As a musician, how are you coping with the current second lockdown?
I would be lying if I would say that I feel much different before and during the lockdown era. I have never been the type of person who is outgoing and surrounded by lots of social contacts. So, I am doing quite fine, actually. But of course, seeing other people suffering is not the most inspiring element out there for me. I do miss bars though.
What are your current music obsessions and is there anyone you would like to work with?
Currently obsessed with the latest album of Cut Copy. I think it's wonderful. Also the latest work of Róisín Murphy got me addicted. I can't stop dancing to the latest EP of Blue Hawaii and its remixes. By the way, I would like to mention that the song was wonderfully mixed by Agor, one half of Blue Hawaii.
I would love to collaborate with lots of artists. Collaboration is such an important part in the creative process since it brings the best ideas of each on to the table. I really want to get to know some Berlin based musicians and collaborate with them!
What else can we expect from Fahd in the future?
I have quite some songs ready or almost ready so I think 2021 is gonna be quite filled with releases from my part, and hopefully some collaborations!